So, it's been a hot minute since I've done one of these. I thought I'd fall right back into it with one of my favorite authors: T. Kingfisher. I just adore how she writes — sarcastic, self-aware, and hilarious. She's mostly in the fantasy genre, though she does write horror (that I do not read, because I like sleeping at night without any lights on, thank you.) If you're ever looking for short books (most of hers fall into the under 300 pages category) that will make you laugh and lighten your heart a little, I highly recommend her fantasy work. Her heroines are usually around 30 years of age, and they're all hilarious in their own ways. Plus there's usually some form of animal as a companion, which is always one of my favorite tropes.
By the way, if you aren't following Ursula on Twitter, you're really missing out.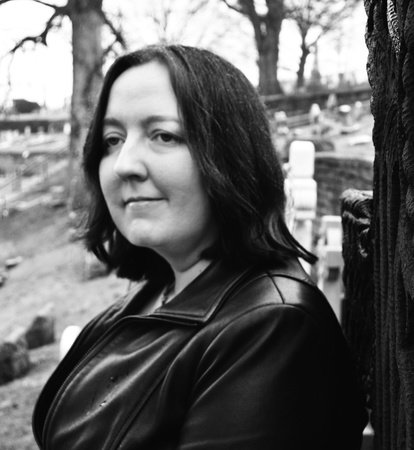 T. KINGFISHER aka URSULA VERNON
WHAT'S SHE KNOWN FOR? Sarcastic heroines, fantastical worlds with a bit of scare in them, and wildly hilarious banter
HOW MANY BOOKS HAVE I READ BY HER? Eight, but she's written way more than that
WHAT GENRES DOES SHE WRITE? Fantasy, mostly, but she also dips her toes quite frequently into the horror genre.
WHERE CAN WE FIND HER? Twitter | Her website
"I fear that I am not the best possible person for this, but I am the best possible person available at this time, which is much the same thing."
― T. Kingfisher, Paladin's Grace
SWORDHEART
GOODREADS | AMAZON | BARNES & NOBLE
Halla is a housekeeper who has suddenly inherited her great-uncle's estate… and, unfortunately, his relatives. Sarkis is an immortal swordsman trapped in a prison of enchanted steel. When Halla draws the sword that imprisons him, Sarkis finds himself attempting to defend his new wielder against everything from bandits and roving inquisitors to her own in-laws… and the sword itself may prove to be the greatest threat of all.
WHY DID I LOVE SWORDHEART?
Swordheart was my first foray into T. Kingfisher's writing. Someone on /r/fantasy had suggested her work to me as a refreshing take on the fantasy genre. How right they were. None of Kingfisher's work (that I've read, anyway) takes itself too seriously, and that is one of the reasons I love it so much. Swordheart is a prime example of this — a man is stuck a sword, and the heroine needs to figure out how to get him unstuck and how to save herself from awful family members. There's a scene in which everyone discusses what happens to Sarkis's pee once he goes back into the sword that made me laugh so hard I was crying.
CW: Death, suicide attempt, sexual content, confinement
THE SAINT OF STEEL SERIES
GOODREADS | AMAZON | BARNES & NOBLE
Stephen's god died on the longest day of the year…
Three years later, Stephen is a broken paladin, living only for the chance to be useful before he dies. But all that changes when he encounters a fugitive named Grace in an alley and witnesses an assassination attempt gone wrong. Now the pair must navigate a web of treachery, beset on all sides by spies and poisoners, while a cryptic killer stalks one step behind…
From the Hugo and Nebula Award winning author of Swordheart and The Twisted Ones comes a saga of murder, magic, and love on the far side of despair.
WHY DID I LOVE THE SAINT OF STEEL SERIES?
The Saint of Steel Series is another entry into Kingfisher's fantasy romance books. These books are both hilarious, and slightly terrifying. It's the overarching plot that makes them terrifying, in case you were wondering. You'll see if you dive into them. ANYWAY — all three books feature different paladins as the main character, but these aren't standalone novels. You'll need to read all three to get the conclusion to the overarching plot I mentioned before. They're 100% worth the slight scares bc the romance and banter in these books is top notch. My absolute favorite book of the bunch is Paladin's Strength, which just like Swordheart, has scenes that make me laugh so hard I cry a little.
HOW MANY BOOKS IN THE SERIES? At the moment, there are three: Paladin's Grace, Paladin's Strength, Paladin's Hope, but I believe she has at least two more planned.
WHAT BOOK DO I START WITH? Paladin's Grace
CW: Confinement, murder, domestic abuse, emotional abuse, panic attacks, body horror
THE CLOCKTAUR WAR SERIES
GOODREADS | AMAZON | BARNES & NOBLE
A paladin, an assassin, a forger, and a scholar ride out of town. It's not the start of a joke, but rather an espionage mission with deadly serious stakes. T. Kingfisher's new novel begins the tale of a murderous band of criminals (and a scholar), thrown together in an attempt to unravel the secret of the Clockwork Boys, mechanical soldiers from a neighboring kingdom that promise ruin to the Dowager's city.
If they succeed, rewards and pardons await, but that requires a long journey through enemy territory, directly into the capital. It also requires them to refrain from killing each other along the way! At turns darkly comic and touching, Clockwork Boys puts together a broken group of people trying to make the most of the rest of their lives as they drive forward on their suicide mission.
WHY DID I LOVE THE CLOCKTAUR WAR SERIES?
I have no idea how to describe this book other than it is entirely fantastical, fun, totally hilarious ride. There's extremely dark moments, but this is a wildly unique fantasy duology that I can't recommend enough. The villains of the piece are a clockwork army, if that tells you anything. This was released as two parts, so they're not really individual novels rather than one big one that got split into two. Either way, you gotta give this one a go.
HOW MANY BOOKS IN THE SERIES?

Two: Clockwork Boys and The Wonder Engine.
WHAT BOOK DO I START WITH?

Clockwork Boys
CW: Violence, animal death, death, sexism, body horror
NETTLE & BONE
GOODREADS | AMAZON | BARNES & NOBLE
After years of seeing her sisters suffer at the hands of an abusive prince, Marra—the shy, convent-raised, third-born daughter—has finally realized that no one is coming to their rescue. No one, except for Marra herself.
Seeking help from a powerful gravewitch, Marra is offered the tools to kill a prince—if she can complete three impossible tasks. But, as is the way in tales of princes, witches, and daughters, the impossible is only the beginning.
On her quest, Marra is joined by the gravewitch, a reluctant fairy godmother, a strapping former knight, and a chicken possessed by a demon. Together, the five of them intend to be the hand that closes around the throat of the prince and frees Marra's family and their kingdom from its tyrannous ruler at last.
WHY DID I LOVE NETTLE & BONE?
This is the first traditionally published work of Kingfisher's that I've read, and honestly, it's just as good as her self-published stuff. Nettle & Bone is a questing novel — Marra, the main character — sets off on a journey to save her sister from a terribly abusive husband. The only problem is — her sister's husband is the Prince. You can read my full review of this book right here. Long story short — this is a wild ride, with laughs, amazing characters, and the feel of a classic fairy tale.
CW

: Domestic abuse, pregnancy, miscarriage, child death, death, physical abuse
WHAT MOVES THE DEAD
GOODREADS | AMAZON | BARNES & NOBLE
From the award-winning author of The Twisted Ones comes a gripping and atmospheric retelling of Edgar Allan Poe's classic "The Fall of the House of Usher."
When Alex Easton, a retired soldier, receives word that their childhood friend Madeline Usher is dying, they race to the ancestral home of the Ushers in the remote countryside of Ruritania.
What they find there is a nightmare of fungal growths and possessed wildlife, surrounding a dark, pulsing lake. Madeline sleepwalks and speaks in strange voices at night, and her brother Roderick is consumed with a mysterious malady of the nerves.
Aided by a redoubtable British mycologist and a baffled American doctor, Alex must unravel the secret of the House of Usher before it consumes them all.
WHY DID I LOVE WHAT MOVES THE DEAD?
Soooo, What Moves the Dead was my first adventure into Kingfisher's horror work. I'm a big whimp, but I really enjoyed this book. You can read my full review for this one here. The characters, just like always, are what made this book work for me. That, and the slowly creeping dread running through the entire book. You can guess what's happening, you can see it go right before your eyes, but once you get to the reveal, its just UGH. Ugh ugh ugh. So good. And gross.
CW

: Body horror, animal death, death, off-page suicide
I know you all are tired of me singing T. Kingfisher's praises, but I really do hope that you'll pick up one of her books because of this post. I can't recommend them enough, especially if you're looking for something brief between other reads that will make you laugh. Have you read any of these? Are you adding any to your TBR? Let me know!